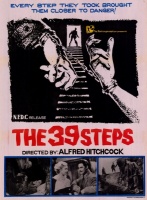 Genre: thriller
Director: Alfred Hitchcock
Writer: Charles Bennett and Ian Hay
Cast: Robert Donat, Madeleine Carroll, Lucie Mannheim and Godfrey Tearle
Duration: approximately 5,200 seconds
Wikipedia: wiki about the movie
The 39 Steps is an early Hitchcock suspense film made in Britain, with a number of uber-Hitchcockian themes that would be seen again in his American work – most notably North by Northwest. Here, a charming hero wrongly accused of murder sets out on his own to save jolly old England from a master spy... while literally handcuffed to a pretty, icy blonde who can't stand him.
The themes that run through The 39 Steps would forever interest Hitchcock, and would appear again and again in his movies over the years. An innocent man wrongly accused; the potential for suspense in train travel; happy marriages vs. miserable unions; the ability of an ordinary man to respond to extraordinary events; bumbling efforts by police; and of course, mildly racy scenes with smart, icy blondes who may not be interested – at least, not right away.
Hitchcock's cameo comes early in this film, as a passerby who's littering the street as Donat and Mannheim board a bus. One of the most famous effects in the film comes when the maid discovers the brunette's body in Hannay's flat… and her scream dissolves into the train whistle of the Flying Scotsman as Hannay makes his escape...
Comment
You must be logged in to comment. Register to create an account.
Next movie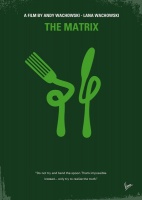 00 ??? ,
now
Log in
Last comments